The secure CJSM email is:
christina.warner@1mcb.cjsm.net
Christina has a busy, multi-disciplinary practice focusing on equality, diversity and human rights. She accepts instructions to advise and represent clients in a broad range of criminal (domestic and international) and family matters, and has a growing practice in animal welfare and dangerous dog law as well as prison law matters.
Christina is co-head of the 1MCB Family team.
Prior to qualifying at the Bar, Christina was admitted to the roll of solicitors in September 2012, and worked at numerous Legal 500 firms.  Throughout her legal career, she has also worked as a legal journalist and interpreter.
Christina accepts direct access cases.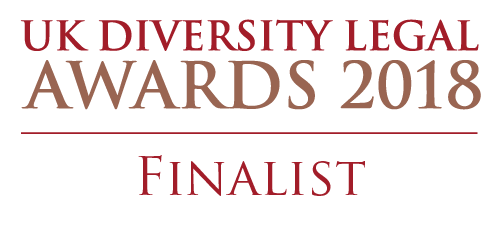 Civil litigation
Christina has a growing practice advising and representing those facing penalties for employing illegal workers under section 15 of the Immigration, Asylum and Nationality Act 2006.
Prior to joining the Bar, Christina was an associate solicitor at a top-tier corporate immigration firm and contributed to one of the firm's most high profile international accounts.  She also advised on Home Office regulation when employing migrant workers, and provided guidance on compliance strategy and systematic audits in order to satisfy statutory requirements.
Family
Christina manages a busy practice advising and representing clients in a range of family matters including private law, public law and financial proceedings.
Undertaking all aspects of private family work, Christina has a particular interest in dealing with matters concerning domestic violence and/or children, and regularly attends county and family proceedings courts in these matters. She has represented clients with an international aspect to their cases and has been instructed in cases where the Hague Convention applies.  This has often required cross-jurisdictional disclosure applications and research into the legal workings of other countries, as well as dealing with experts from other jurisdictions.
Christina has nurtured a strong Spanish and Portuguese-speaking client base throughout London, building ties with many charities and representing individuals from these communities. Particularly interested in assisting those from non-traditional or alternative family structures, Christina has advised non-biological parents, single carers and same sex couples as to the legal recourse available to them, especially when considering matters surrounding human rights.
Recent cases
London Borough of Bromley (Re. BM) – Successful reunification of child with mother after lengthy care proceedings concerning cross-jurisdictional SGO applications and matters of local authority designation;
K A-B v PM – Contested divorce proceedings. Successfully opposing a contested divorce application in light of a fraudulent immigration application on the basis of falsified marriage documents;
London Borough of Hillingdon (Re. KK) – Application for leave to oppose the making of an adoption order;
O-W v O-W – Application at High Court for injunctive relief in light of pending matrimonial finance proceedings and concerns for the disposal of assets;
RO v SA – Acting on behalf of the respondent in the opposing of the making of an occupation order in light of allegations of bigamy.
Pro bono
Christina has contributed to the work of numerous women's and LGBTQ+ charities including Latin America Women's Aid, Latin American House, and Solace Women's Aid, and was the legal trainer for LGBT charity, Broken Rainbow, offering training to volunteer call-takers on legal approaches surrounding domestic abuse and the court process.
From October 2012 to March 2013, Christina was duty solicitor at the Croydon Family Justice Centre. During her time there, she dealt with a variety of cases but mainly advised on matters involving domestic violence or safety risks to children.
International child law
Christina has a growing practice in international child law and matters surrounding the cross-border protection of children.
Christina regularly attends the High Court representing individuals involved in matters concerning the international movement of children such as urgent applications requiring injunctive relief and 'leave to remove' applications.
International criminal law
Christina undertook a six month secondment at the International Criminal Court at The Hague in 2016. During her role, Christina worked for the Office of the Prosecutor assisting on the landmark case of The Prosecutor v Ahmad Al Faqi Al Mahdi (The situation in Mali) ICC-01/12-01/1.   During this time, she assisted with the preparation of the Court's first trial for charges of war crimes concerning racially motivated cultural vandalism: this arose from events in Timbuktu in 2012.
Christina also contributed to the prosecution of Dominic Ongwen (The Prosecutor v. Dominic Ongwen (The situation in Uganda) ICC-02/04-01/15). Christina's responsibilities included drafting complex motions for judicial notice and providing advice and guidance on matters concerning sexual and gender based crimes and child soldiers.
During her time at the ICC, Christina contributed to the Prosecution Division's policy on children. Christina also contributed to the advocacy training programme at the ICC as both a member of the training panel and as an assessor.
Christina was appointed associate counsel to the ICC in December 2017, permitting her to represent victims of war crimes, crimes against humanity and genocide.
Education
Diploma in Forensic Science

Higher Rights of Audience

Legal Practice Course (College of Law)

LLM (Queen Mary University of London)

LLB (Hons) English and Spanish Law (University of Kent)

Diploma en Derecho Español (Universidad Complutense de Madrid)
Hobbies & Interests
Restoring vintage cars/bikes and American muscle cars;

Teaching and learning languages;

DIY décor, particularly upcycling 1950/60s furniture.
Publications & Seminars
Seminars
Keynote speaker at National LGBT Domestic Abuse conference, 9th May 2019.
Publications
'Finding the 'fact' in fact-findings: the trouble with PD 12J', Family Law, June 2019, Vol. 49.
'Draft Domestic Abuse Bill: Progress or Pitfall', Counsel Magazine, May 2019.
'How departure from the ICC by African states has triggered immunity vs impunity debate', Criminal Bar Quarterly, Spring 2018.
'Increasing sentences for animal cruelty offences', Criminal Law & Justice Weekly, 21 October 2017.
'ICC & "Honey Trap"', Criminal Law & Justice Weekly, 14 October 2017.
'NATO's Article 5', Criminal Law & Justice Weekly, 5 August 2017.
'How medical fraud is highlighting growing danger of press freedom in Mexico', Criminal Law & Justice Weekly, 26 May 2017.
'Europe: gender based violence', Criminal Law & Justice Weekly, 4 March 2017.
'Is the Minsk ceasefire working?' Criminal Law & Justice Weekly, 28 January 2017.
'Why an Olympic medal strengthens Kosovo's appeal for independence', Criminal Law & Justice Weekly , 24 January 2017.
'ICC: court of last resort', Counsel Magazine, December 2016.
'Street justice? – the war on drugs in the Philippines',  Criminal Law & Justice Weekly, 29 October 2016.
'ICC: destruction of cultural sites', Criminal Law & Justice Weekly, 1 October 2016.
'The International Criminal Court's draft policy on children', Criminal Law & Justice Weekly, 15 October 2016.
Radio interview regarding the investigations into the "Croydon Cat Ripper".
'Domestic violence: the impact on pets', The Journal of Animal Welfare Law, December 2014.
'Update: developments in legislation regarding dangerous dogs', Magistrate Magazine, August 2011; re-published in The Journal of Animal Welfare Law, Autumn 2011.
'Update: Legal Aid and the Magistrates Court', Magistrate Magazine, June 2009.
'Review: mobile policing units in London', The Advocate, May 2009.
'Young heads on old shoulders: opening the Bench to a new generation (Magistrate Magazine, May 2009).
Languages
Spanish (native)

Portuguese (intermediate)

French (basic)
Appointments
Associate Counsel at the ICC
Middle Temple advocacy trainer
Magistrate – criminal court (adult) – 2008
Magistrate – crown court (appeals) – 2013
Magistrate – family court – 2014
Awards
Shortlisted – Lawyer of the Year and Diversity Champion. UK Diversity Legal Awards, 2018.
Shortlisted – Rising Star in Law – The Times, WeAreTheCity Awards, 2019​.
Credited by Amnesty UK's Suffragette Spirit campaign, March 2018.