The secure CJSM email is:
john.benson.qc@1mcb.cjsm.net
'A great all-round silk.'
Legal 500 2020
John Benson KC and Head of Chambers noted as "extremely approachable and very thorough."
Legal 500, 2016
John Benson KC is a multi-disciplinary Silk with expertise and extensive experience in serious crime and civil litigation (mainly clinical negligence and personal injury). He has particular expertise in the cross-examination of expert witnesses.  He sits as a Recorder of the Crown Court and County Courts and is ticketed to sit on serious sex offences.
John is also a member of Atlantic Chambers in Liverpool.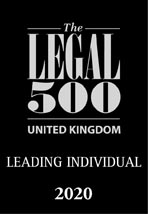 Crime
John is regularly instructed in cases of the utmost seriousness involving homicide, sexual offences, robbery and fraud.
Cases
In the last few years include:
R v Bolland (Chester Crown Court, 2020): Defendant indicted for brutal murder of girlfriend. Issues of fitness to plead involving expert psychiatric evidence. Jury trial proceeded on issue of whether D committed the act. Hospital Order with restriction made;
R v Ahmed (Liverpool Crown Court, 2020): Defendant charged with murder of an acquaintance and s18 wounding of a family member. Trial. Issues of self-defence and diminished responsibility;
R v Cosgrove (Southwark Crown Court, trial 2018, re-trial 2019): Led Gwawr Thomas of 1MCB defending one of six defendants charged with conspiracies to supply controlled drugs and prescription only medication. A complex case investigated by the Medicines and Healthcare Products Regulatory Agency over several years. The prosecution relied, amongst other evidence, on covert surveillance, covertly recorded discussions between covert human intelligence sources with the defendant and records of electronic communications between the defendant and the Indian arm of the conspiracy;
R v Ihenagwa (Croydon Crown Court, 2019): Acted for employee of pharmacy prosecuted for illegal supply of prescription only medicines. Case investigated by MHRA;
R v B & Ors (Central Criminal Court, 2018): Leading Ranjeet Dulay, together with Salma Lalani led by Max Hill QC, successfully defended two of three men charged with murder. The prosecution alleged that the deceased was targeted after an argument with the accused the previous day at a family celebration. The case required painstaking scrutiny of CCTV material which captured the presence of the parties before and after the assault in which the deceased was fatally stabbed. A number of the key prosecution witnesses were granted anonymity, which added to the challenges in a complex case;
R v M (Central Criminal Court, 2018): successfully defended a client charged with murder. Following his extradition from the USA in November 2016, and after a three-week trial at the Central Criminal Court secured the client's acquittal on a count of murder. The charge related to the violent death by stabbing of a young man in Edmonton on New Year's Day in 2008. Two other men who had been extradited from Jamaica were convicted of murder in 2013. The prosecution relied heavily on CCTV footage of the attack on the victim, which followed an altercation on a night bus. The alleged joint enterprise involved four men, one of whom has never been apprehended. Leading Salma Lalani from 1MCB Chambers;
R v R (Central Criminal Court, 2018): Instructed on a multi-handed murder in which the defendants are accused of fatally shooting the deceased following his objection to their continued efforts to deal drugs in his neighbourhood. Leading Michael Chambers of 1MCB;
R v Iyamu (Birmingham Crown Court, 2019): Defended a woman charged with human trafficking and modern slavery. Defendant of dual nationality. Allegation of trafficking young women from Nigeria to Germany to work in brothels. Covert investigation resulted in vast body of disclosed material. Case was subject to Attorney General's Reference.
R v A & Ors (Central Criminal Court, 2017): seven week trial, successfully defended a client on a charge of murder. The prosecution alleged that the defendant was armed with a knife and was responsible for the killing. The challenges in the case increased when two of the co-defendants sought to blame the defendant. The defendants were accused of a drugs related gang killing of the victim who suffered multiple stab wounds. Complex challenges involving a cut-throat defence, detailed CCTV and forensic analysis. See news item here. Leading Salma Lalani from 1MCB Chambers;
R v J (Central Criminal Court, May 2017): D charged with the brutal murder of nurse at community psychiatric hospital where he was a resident. D was suffering from paranoid schizophrenia (a condition which D refused to acknowledge). Prosecution eventually accepted plea to manslaughter. D asserted that he had been provoked. Disposal recommendations were not agreed as between forensic consultant psychiatrists who were required to give evidence and have their conclusions tested. In the result a s37 hospital order was made without restriction of time;
R v S and W (Liverpool Crown Court, 2017): Case involved violent death of child. Mother and boyfriend charged with murder. Defended mother in hugely challenging case involving many paediatric witnesses. Co-defendant convicted of murder.
R v G & Ors (Central Criminal Court, 2017): Defended G who along with two others was charged with murder. Victim had attacked G some four years before and prosecution alleged that the assault on deceased was a reprisal in context of gang rivalry. CCTV showed the attack but identification of the attackers was not possible. The prosecution relied on CCTV, cell site and forensic evidence. 7 week trial. Leading Salma Lalani from 1MCB Chambers;
R v Puventhiran & Ors (Central Criminal Court, 2016): Defended one of eight on charges of axe murder and four counts of attempted murder. Rival Tamil gang dispute. 12 week trial. Led Jemma Levinson of 1 MCB. Acquittal achieved;
R v S & Anor (Woolwich Crown Court, December 2016): Defended man charged with attempted murder. Victim who was badly injured in a knife attack refused to assist in investigation but had made statements to mother immediately after implicating D. Arguments about admissibility of these statements as res gestae. Prosecution also relied on taped telephone conversations as between D and his co-accused. Admissibility and accuracy of transcription of content challenged. A complex case which lasted 3 weeks. Leading Paul Stanislas, in-house advocate at Monioro Less solicitors;
R v Conah (Liverpool Crown Court, 2015): Prosecuted a man charged with murder. A plea to manslaughter was accepted in a case that involved difficult and sensitive family issues;
R v Martin (Liverpool Crown Court, 2015): Defended a young woman charged with murder of a partner. Issues of self-defence and provocation;
R v O'Shaugnessy (Liverpool Crown Court, 2015): Successfully prosecuted a domestic murder by stabbing;
R v Benham (Basildon Crown Court, 2015): Defended one of two former senior firefighters on charges of false imprisonment and indecent assault while on duty. An unusual and challenging case requiring familiarity with the organisation and culture of the fire service in 1980s and 90s. Acquitted after a three-week high profile trial;
R v V (Birmingham Magistrates Court, 2015): Defended practising solicitor charged with racially aggravated harassment of Network Rail employee. Acquitted;
R v Kalajaiye (Chelmsford Crown Court, 2015): Defended a man charged with brutal premeditated murder of his mother. Complex psychiatric and factual issues. Acquitted of murder and convicted of manslaughter (diminished responsibility) after a three-week trial;
R v Walters & Ors (Central Criminal Court): Defended one of five men charged with murder in alleged gang dispute. Cut-throat defence. Acquitted;
R v Abdulkhadir & Ors (Luton Crown Court): Defended one of three men charged with double murder by shooting. Cut-throat defence. Case involved police informant, admissibility of covert recording of conversations in prison, and foreign convictions;
R v Hunter (Central Criminal Court): Defended lead defendant on charges of attempted murder by shooting. Gang related. Acquitted. Led Ignatius Fessal of 1 MCB.
In the past has appeared for the defence in many high profile cases including:
R v Grobelaar: corruption allegation against former Liverpool FC goalkeeper;
R v Cunliffe & Ors: murder of Mr Gary Newlove in Warrington;
R v C [2007] 2 Cr. App.R 330. Children. Indecent assault. Confidentiality. Jury deliberations. Irregularities. Criminal Cases Review Commission.
Defended one of the lead defendants in large-scale fraud involving construction of the Millennium Dome.
Hobbies & interests
Liverpool Football Club
Wine
Walking
Gardening
Italy
Seminars
Regular contributor at Personal Injury and Clinical Negligence Conferences.
Chaired AvMA Conference 2015.
Recently given talks on bad character and the cut-throat defence.
Appointments
Recorder of the Crown and County Courts 1998