The secure CJSM email is:
john.benson.qc@1mcb.cjsm.net
John Benson QC and Head of Chambers noted as "extremely approachable and very thorough."
Legal 500, 2016
John Benson QC is a multi-disciplinary Silk with expertise and extensive experience in serious crime, civil litigation (mainly clinical negligence and personal injury), employment (particularly restrictive covenants) and regulatory work. He has particular expertise in the cross-examination of expert witnesses. He sits as a Recorder of the Crown Court and county courts, and is ticketed to sit on serious sex offences. John is also a member of Atlantic Chambers in Liverpool.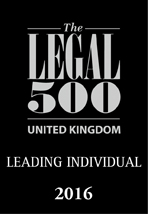 Personal injury
John carries out advisory work and advocacy in claims involving negligent provision of medical, dental and nursing services.
Recent cases
Cases in the last two years include:
GP negligence: failure to diagnose transient ischaemic attack leading to avoidable catastrophic stroke;
Hospital negligence: a delayed negligent failure to diagnose acute myeloid leukaemia in teenager causing paraplegia. Damages were £7 million plus;
Orthopaedic: sub-optimal surgery to complex fracture causing permanent disability to 50 year old male;
MRSA infection acquired while an in-patient;
Negligent surgery to remove laryngeal tumour resulting in loss of speech;
Gynaecological/urinary procedures;
Knee arthrodesis/hip replacement/spinal surgery;
Avoidable DVT;
Avoidable development of pressure ulcers;
Cosmetic procedures: breast enlargement, tattoo removal;
Dental negligence root canal treatment/infection/paralysis;
Nursing negligence- pressure sores/tissue viability issues;
Ambulance service: delay in response/mis-recording of BP and cardiac monitoring;
Expertise in drafting schedules of loss in high value claims;
Expertise in the cross-examination of expert witnesses;
Extensive experience in JSM.
Clinical negligence
John carries out advisory work and advocacy including drafting pleadings and schedules of loss in complex/high value personal injury and fatal claims arising from accidents and employment related disease and injury.
Recent cases
Cases in the last two years include:
Representing a claimant who suffered catastrophic brain injury in an accident during a police pursuit. Issues of ex turpi and volenti;
Representing a widow and dependents of employee crushed to death by a vehicle reversing in the company's factory yard. The deceased was director and employee of the company. Complex issues of quantum;
Representing male cyclist knocked from his cycle by a motorist, and sustaining a devastating brain injury;
Representing a defendant lorry driver in a fatal accident claim following death of a cyclist during hours of darkness on a dual carriageway. Issues of contributory negligence;
Representing the estate of a young male who died following a head injury suffered when he was assaulted by nightclub doorman. Issues of vicarious liability and ex turpi;
Acting for the tenant claimant in a claim against a landlord for injury suffered by reason of alleged breach of repairing covenant. Represented the claimant/respondent in Supreme Court: Edwards v Kumarasamy 2016 UKSC 40
Other notable cases include Knowles v Liverpool City Council in House of Lords 1993 4 All. E. R. 321– meaning of 'equipment' for purposes of Employers Liability (Defective Equipment) Act 1969.
Crime
John acts in cases of homicide, sexual assault, fraud and motoring offences.
Recent cases
In the last two years include:
R v Connah (Liverpool Crown Court, January 2015). Prosecuted a man charged with murder. A plea to manslaughter was accepted in a case that involved difficult and sensitive family issues;
R v Martin (Liverpool Crown Court, May 2015). Defended young woman charged with murder of a partner. Issues of self-defence and provocation;
R v O'Shaugnessy (Liverpool Crown Court, June 2015). Successfully prosecuted a domestic murder by stabbing;
R v Benham (July 2015). Defended one of two former senior firefighters on charges of false imprisonment and indecent assault while on duty. An unusual and challenging case requiring familiarity with the organisation and culture of the fire service in 1980s and 90s. Acquitted after a three-week high profile trial;
R v V (Birmingham Magistrates Court, 2015). Defended practising solicitor charged with racially aggravated harassment of Network Rail employee. Acquitted;
R v Kalajaiye (Chelmsford Crown Court, 2015). Defended a man charged with brutal premeditated murder of his mother. Complex psychiatric and factual issues. Acquitted of murder and convicted of manslaughter (diminished responsibility) after a three-week trial;
R v Walters & Ors. (Central Criminal Court). Defended one of five men charged with murder in alleged gang dispute. Cut-throat defence. Acquitted;
R v Abdulkhadir & Ors (Luton Crown Court). Defended one of three men charged with double murder by shooting. Cut-throat defence. Case involved police informant, admissibility of covert recording of conversations in prison, and foreign convictions;
R v Ricardo Hunter (Central Criminal Court). Defended lead defendant on charges of attempted murder by shooting. Gang related. Acquitted. Led Ignatius Fessal of 1 MCB;
R v Puventhiran & Ors (Central Criminal Court, 2016). Defended one of eight on charges of murder and attempted murder x4. Rival Tamil gang dispute. 12 week trial. Led Jemma Levinson of 1 MCB.
In the past has appeared for the defence in many high profile cases including:
R v Grobelaar – corruption allegation against former LFC goalkeeper;
R v Cunliffe & Ors – murder of Mr Gary Newlove in Warrington;
R v C [2007] 2 Cr. App.R 330. Children. Indecent assault. Confidentiality. Jury deliberations. Irregularities. Criminal Cases Review Commission.
Defended one of the lead defendants in large-scale fraud involving construction of the Millennium Dome.
Hobbies & interests
Liverpool Football Club
Wine
Walking
Gardening
Italy
Seminars
Regular contributor at Personal Injury and Clinical Negligence Conferences.
Chaired AvMA Conference 2015.
Recently given talks on bad character and the cut-throat defence.
Appointments
Recorder of the Crown and County Courts 1998